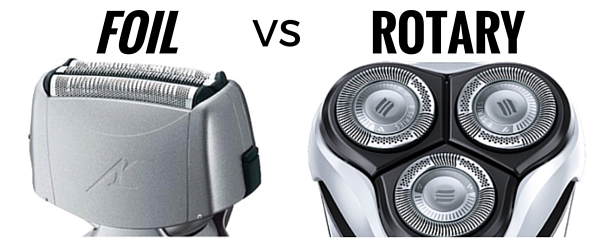 It's time for a head to head smack down of the Best Foil vs Rotary shavers on the market.  In order to be as fair as possible we picked two of the top rated from Amazon that are similar in price.
Before we get into the specifics of these shavers let's first talk about the major differences between all foil and rotary shavers.  The technology they use is quite different and as you can see in the photo above they have very different appearances.
Both shavers are electric and have spinning blades that are used to cut the hair.  The foil has a very thin piece of foil or metal covering the blades and the rotary typically has 3 circular shaped heads that cover the blades.
The different shavers really suit two different types of shavers.  Check out the comparison below and see what suits you the best.
Foil Shavers are best for
The closest shave you will get with an electric shaver
Great for daily use
Better for sensitive skin
Easily shaves straight hair, but more difficult to shave curly hair
Thin hair rather than thick coarse hair
Rotary Shavers are best for
Shave close, but more of a 5'oclock shadow look rather than a smooth shave
When your hair grows in different directions or is curly
If you don't shave daily
Coarse hair rather than thin hair
Now you know the the main differences between foil and rotary shavers let's talk about the two best shavers on the market and you can decide which one is the best for you.
Norelco created a shaver that can be used wet or dry and also has a popup beard trimmer.  With over 1,200 reviews and 4.5 out of 5 stars this shaver is no doubt a winner.  It uses a pivot, flex, and float system which allows the shaver to follow the contours of your face.  An excellent shave at a reasonable price.
Panasonic's Arc3 is a cordless wet or dry foil shaver.  This razor is extremely popular and with over 3,000 reviews on amazon with 4.5 stars the customers have given it their stamp of approval.  It also sports a popup trimmer for your beard and the adjustable pivoting head will follow the contours of your face.

Both of these shavers have similar price tags and features that make either one an excellent choice.  Your decision really boils down to the difference between the Foil and the Rotary in general.  Decide which type of razor suits you best and then pick either one of these and you can't go wrong.